Company Outline
We are a manufacturer and exporter of pressed flower products, with our home base located in the city of Tainan, Taiwan since 1964. We started from a maker of bamboo basket products in Kung-Miau of Tainan County, and developed into a major manufacturer and supplier of florist designs and flower shop equipment. We have more than 25 years of experience in the field of florist industry.
From 1990, we have invested vastly in China and other developing countries, and our projects include Farmland Development, Flower Plantation, and Manufacture and Exportation of pressed flower products to Japan market. We hold on patent of special technology for the pressed flowers process, with a broad range of high quality products: including pressed flowers and plants, relation real flower merchandise for the market as Gifts. Stationery. Greeting cards. Hobbies supplies. etc.
Farms in Asia Region
We have also huge invested in Asia Region to grow a variety of flowers since 1990. For the present, we have joint ventures farm in China, Mongolia, India, Indonesia and Vietnam. Today we own more than 400,000 square meters of productive farm land, and have a work force of more than 800 highly trained and skilled workers. We also benefit greatly from a number of patents for the production process of our pressed flowers. Our forecast for 2005 sales will reach a total of 105 - 200 million units, with more than 280 product lines of pressed flowers and plants which are available in more than 35 markets over the world.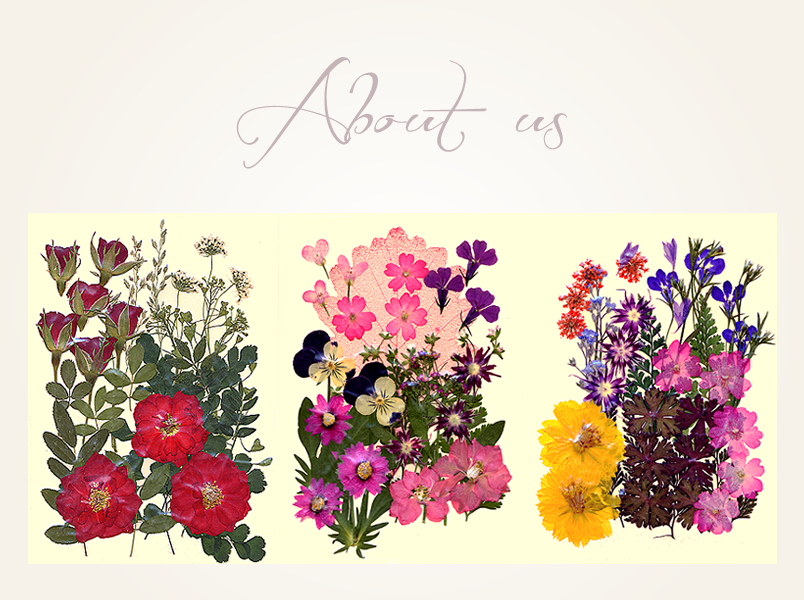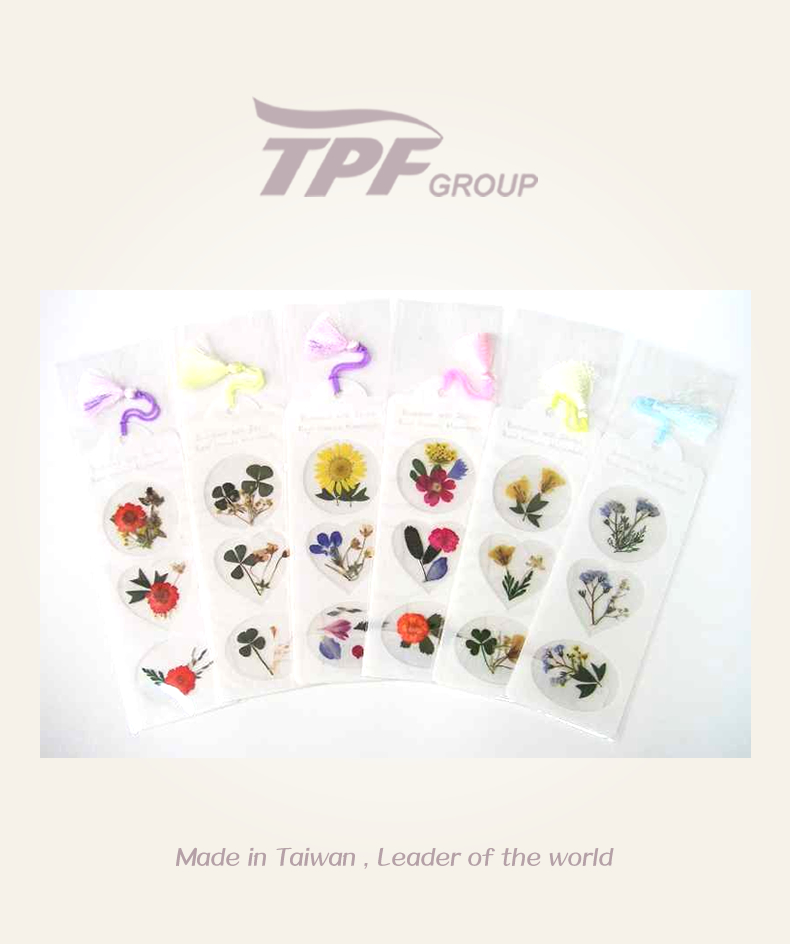 Team work for Design and Development:
As a world leader in the field of manufacturing and designing pressed flowers, we have a professional team fully devoted to the advancement of our products. Unlike other competitors, who are merely imitating or duplicating other company's designs, we are persistent with our belief on the original works and advanced production technologies. We believe that our customers will always be interested in our innovative and superior product designs. And through years of our team's devotion and effort to maintain our unique style of product designs, we have enjoyed a competitive edge over our competitors.
Product Lines
Taiwan Pressed Flower Co, Ltd. has a board range of product lines, our major products include: Pressed flowers and plants; Real Butterflies, Real Flower File and Book Cover; Dry flowers of various items as Real petals Confetti, and Floral stickers, Resin stickers, Floral sandal vamps, customized design and production by request.
Quality Assurance system<
Our workers and technicians follow a set of operational procedures and guidelines in every step of the production process, and the QC personnel closely monitor the process, carefully inspect the products for defects, and periodically prepare deviation reports for the management to ensure our products meet the highest Quality Control Standards.
Our New Automated Factory in Tainan
At the end of the year 2003, we invested NT $200 million in constructing a modern, fully automated factory in Tainan Technology Industrial Park in response to the Economic Development plan advocate of the Taiwan Government. We have a long-term strategy for diversification into the development and manufacture of agricultural with industrial products. In October 2004, our Tainan factory began to function with an automated line of production process. The major products of our Tainan factory include pressed flower stationeries and Pressed Flower Floral sandal vamps. Our Tainan factory is also the only one to own a patented production process of the above products in the entire world. With our tradition of being the leader in the field and the maker of superior products, we expect to make another example of "Made in Taiwan, Leader of the World".
PAGE TOP